Wiley Content Sharing FAQs
Wiley Content Sharing FAQs
The Wiley Content Sharing feature facilitates research collaboration by providing authors and subscribers with a simple tool for sharing free-to-read full-text articles with non-subscribers. This feature is available for all journals across the Wiley portfolio with a few exceptions for journals that are opted out of the program. The launch of July 2017 follows a successful trial that began in early 2017. The content sharing program is another step in Wiley's mission to support researchers and make sharing easier for all.
What is content sharing?
Sharing research results is central to the academic process. As a means of sharing, Scholarly Collaboration Networks (SCNs) have become increasingly important to enable researchers to collaborate and share results.
By better facilitating the ability to share and disseminate critical research, Wiley wants to improve the user experience for existing subscribers and authors of our content, while providing clear and convenient access to a legal and appropriate way for subscribers to share copyrighted material.
Why is Wiley offering content sharing?
Collaboration is a vital part of research and scholarly activity. Wiley supports sharing and is constantly exploring ways to enhance collaboration and facilitate sharing, in order to benefit researchers, institutions and society as a whole. The introduction of content sharing on Wiley Online Library makes content accessible through innovative ReadCube technology. Content sharing facilitates peer-to-peer sharing and allows non-subscribers to have complimentary access to Wiley's content without infringing copyright.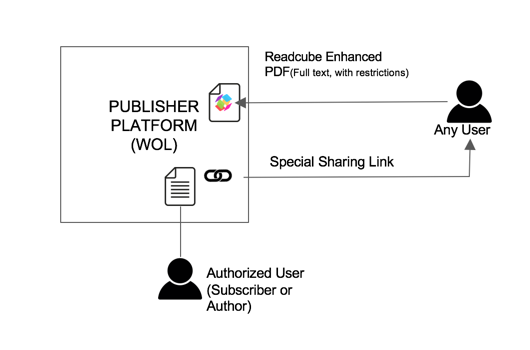 What is the new content sharing feature planned for Wiley Online Library?
Wiley's new feature on Wiley Online Library allows users who have access to our journal content (through institutional purchase or other means) to share links to journal articles they have access to. The new feature allows individuals who receive these links to view the full article online easily and with a minimum of hassle.
Content sharing on Wiley Online Library facilitates collaboration by providing authors, the media and researchers with a simple tool for sharing full-text content and allows non-subscribers to have complimentary access to Wiley content when shared by a subscriber. Content sharing was initially rolled out as a pilot in early 2017, encompassing 180 proprietary Wiley journals.
Is the feature available for all journal content on Wiley Online Library?
The feature is available for all journals on Wiley Online Library. However, some journals may choose to opt out of the content sharing program.
How does the new feature work?
If you have access to the content, from the HTML view of the full article online you will see a share button in the top right hand corner. When you click on this, if the journal is part of the content sharing program, you will see an option to 'Get Link'. When you click this icon it will provide a popup where you can generate a link you can share with peers and colleagues. Recipients will be able to view the whole article online when they click on the content sharing links that they receive. (see screenshot below)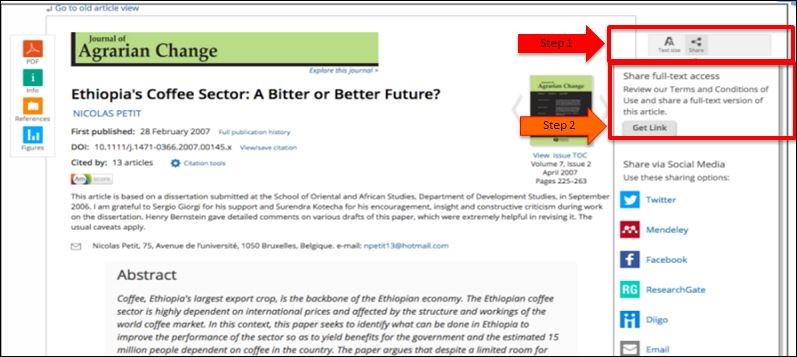 Will links that have been shared count as usage in any institutional monthly reports that I, or my institution, receive?
It depends on the following:
• If a recipient receives and follows a share link and already has full access to the article, (for example their institution already subscribes to the content) it is counted as a regular full text PDF use against that user's institution.
• If a recipient follows a share link and does not normally have access to the resulting article, they will be able to view the whole article, but cannot print or save it. It will currently be recorded as an access denied in the institution's stats as it would have been previously.
• If the recipient is not from a subscriber institution, the institution will be captured as "unknown."
Can a librarian see how many articles are being shared FROM their institution?
Not currently.
How can a librarian, or Wiley tell if links are being abused?
There is no way for a librarian to tell, but there should be no adverse effect on a customer's usage reporting because the scenarios we anticipate will result in Wiley giving away content for free to non-customers.
Can Wiley deactivate a shared link?
Wiley will have the ability to deactivate shared links, if we believe they are being abused.
What happens when a link is deactivated?
Recipients who are authorized users of WOL who click on a deactivated link will be taken to the full e-PDF.
Recipients who are not authorized to access WOL content who click on a deactivated link will be taken to a customized e-PDF pay wall. That customized page will include a message about the link being inactive, purchase options, and login options.
Who should I contact if I encounter a problem with the new feature?
In the first instance individual users should contact the librarian or institutional administrator for their Wiley Online Library account. They in turn can contact our Customer Service team or their established contact at Wiley for Wiley Online Library questions.
SEARCH
Information and ideas to help promote Wiley online content to library users.
Customer Administration
Pricing and Licensing
Wiley helps professional and scholarly societies succeed in today's changing information landscape with two centuries of publishing expertise.
Find breaking news from Wiley Publishing and search an archive of press releases in the Wiley Press Room.