Altmetrics
Researchers, funders and institutions are increasingly concerned about the impact of their work across wider society.

The traditional method of counting citations to measure impact can miss the impact of individual articles across social media (Twitter, Facebook, Google+, Pinterest, blogs), traditional media and Online reference managers like Mendeley and CiteULike. As a result, there has been a desire in the scientific community to get a more granular breakdown of an article's performance using article level metrics, or 'altmetrics' to measure the impact of individual articles, not just journals.
---
Altmetrics on Wiley Online Library

Altmetrics data is now available across many of the articles on Wiley Online Library following the successful pilot across our Open Access articles.

Altmetric LLP, who provide the data, collect article level metrics and the online conversations around research papers by tracking a selection of online indicators (both scholarly and non-scholarly) to give a measurement of digital impact and reach. 'Mentions' that contain links to any version of the same paper are picked up, and collated. The result is the Altmetric score.

The Altmetric data available on the journal articles allows you to:
See the attention that each article is receiving in real-time
Explore the conversations surrounding the content
Identify recent papers your peers think are interesting
---
The Altmetric score

The score is a quantitative measure of the attention that a scholarly article has received. It is derived from 3 main factors:
1.
Volume
The score for an article rises as more people mention it.
2.
Sources
Each category of mention contributes a different base amount to the final score.
3.
Authors
How often the author of each mention talks about scholarly articles influences the contribution of the mention.
On Wiley Online Library, simply hover over the 'AM Score' Article Metrics' link (on the left of the main article page, underneath the Title and Author information for the article) to view the Altmetric data: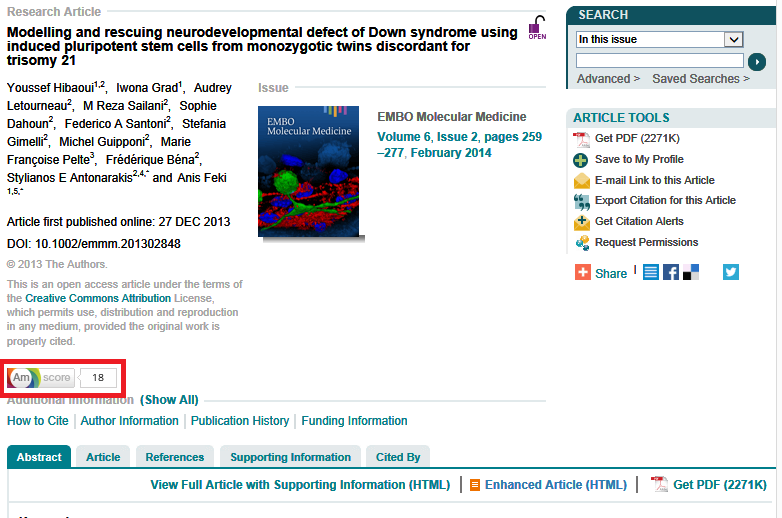 Or, you can click on the button to be taken to the article details page, which will show you a detailed breakdown of where the article has been mentioned: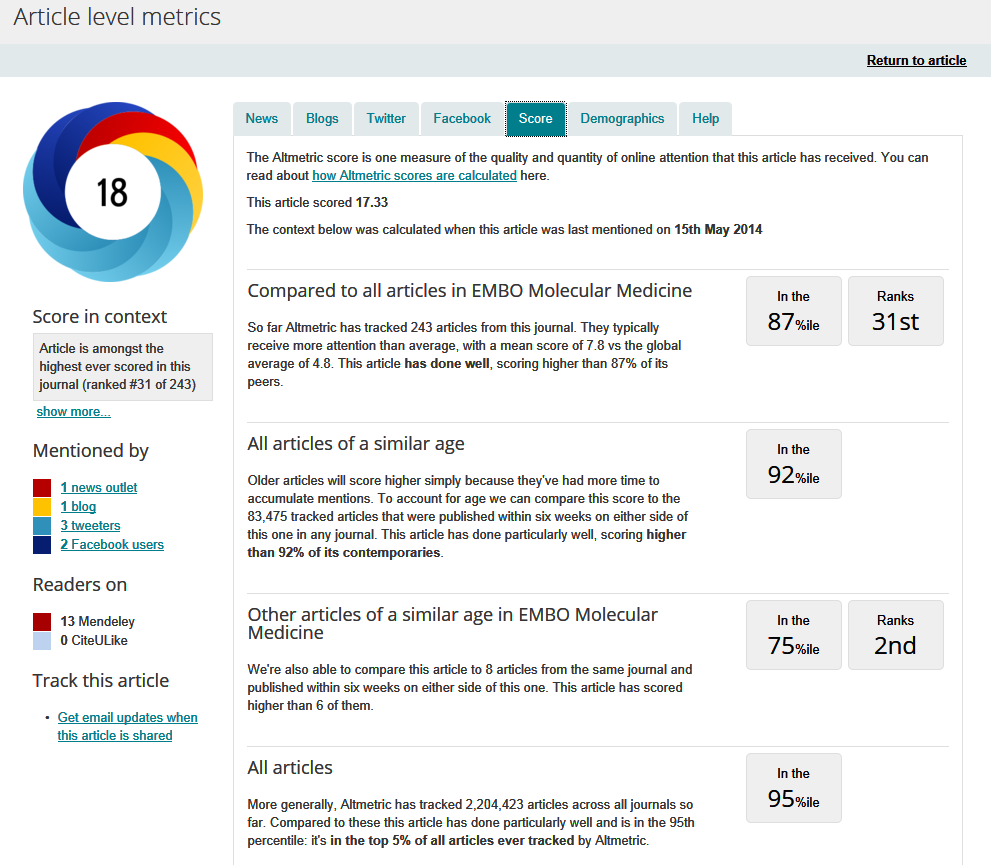 The ring-shaped donut visualisation will differ in colour depending on what sources the article has mentions from - blue for twitter, yellow for blogs, red for mainstream media sources - and so on. You can also sign up for an Altmetric email alert from this page, to be notified when the paper receives a new mention online (don't worry - you'll only get one email a day, no matter how many mentions it gets in that day).
---
Missing mentions

If you spot any mentions missing for a paper, please email support@altmetric.com with the relevant links.
---
FAQ

If you would like more information around Altmetrics, why not start with our FAQ? There are links to additional information within.
SEARCH
Information and ideas to help promote Wiley online content to library users.
Customer Administration
Pricing and Licensing
Wiley helps professional and scholarly societies succeed in today's changing information landscape with two centuries of publishing expertise.
Find breaking news from Wiley Publishing and search an archive of press releases in the Wiley Press Room.