Transferable Peer Review Pilot: For Authors
On average, peer review takes 80 days1. That's 1,920 hours of waiting for a decision. And it all starts over if your paper gets rejected.
We think that's a long time. We know you do too.
So, why not review a paper just once? If your paper is rejected, the review travels with it.
We call this transferable peer review and we're rolling it out across 9 of our high impact, neuroscience journals.
Submit to one of these journals and your paper will be reviewed as usual, but with the addition of a scorecard that will be used by all 9 titles. If your paper is rejected, you can choose to transfer your paper along with the review and scorecard to another journal in the pilot, and receive a speedier decision.
We believe that this system will save authors, reviewers and editors valuable time, significantly increasing the speed to publication for many papers. Journals taking part in the pilot are:
What to do next
If you would like to take part in the pilot and transfer your paper, email peerreview@wiley.com with your name, manuscript ID number, and the title of the journal you would like to transfer your paper to. We'll take care of the rest!
One paper. One review. Quicker decisions.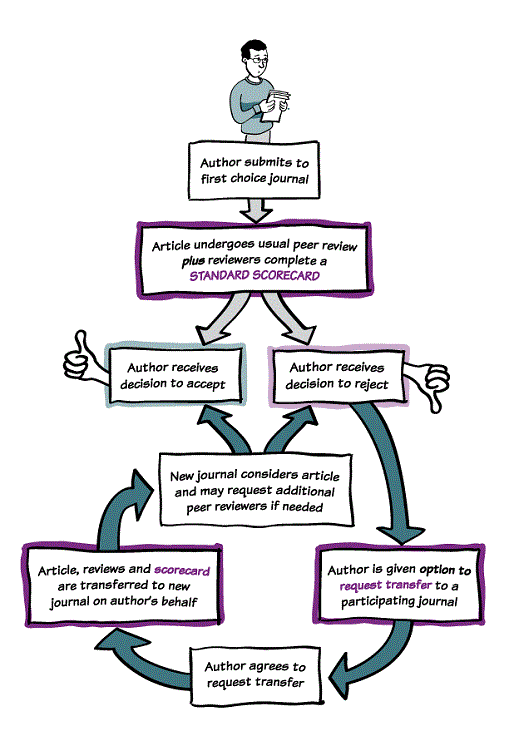 1 M. Ware, Peer review: benefits, perceptions, and alternatives (Publishing Research Consortium, London UK, 2008; http://www.publishingresearch.org.uk/documents/PRCsummary4Warefinal.pdf)
SEARCH
Information and ideas to help promote Wiley online content to library users.
Customer Administration
Pricing and Licensing
Wiley helps professional and scholarly societies succeed in today's changing information landscape with two centuries of publishing expertise.
Find breaking news from Wiley Publishing and search an archive of press releases in the Wiley Press Room.