ReadCube
Wiley offers Enhanced PDFs across Wiley Online Library in partnership with ReadCube
What is ReadCube?
ReadCube Features (Online)
Enhance your PDF Further
FAQs
---
What is ReadCube?
ReadCube is a next-generation article reader and citation manager. Whilst keeping the clear layout and simple design of the standard PDF, PDFs opened in the ReadCube Enhanced PDF format, feature hyperlinked in-line citations and clickable author details, allowing quick look up and cross reference. Supplementary information, figures and other valuable article data, are always just a click away, making it easier for researchers to discover, access and interact with our scientific literature. Integrated social sharing and social metrics data are also available from Altmetric, connecting our articles in new, innovative ways.

Online Library users do not need a ReadCube account to experience the benefits of the enhanced PDFs in their web browser, though additional benefits, like saving highlights or annotations you have made to an article, are available to readers who download the PDF and open it in the free ReadCube Desktop application.

Readcube also provides more flexible options for "Pay-Per-View" journal article access, replacing our existing PPV service for individual users with affordable rental, cloud and PDF download options, ensuring we give users a range of options in how they view and access that content.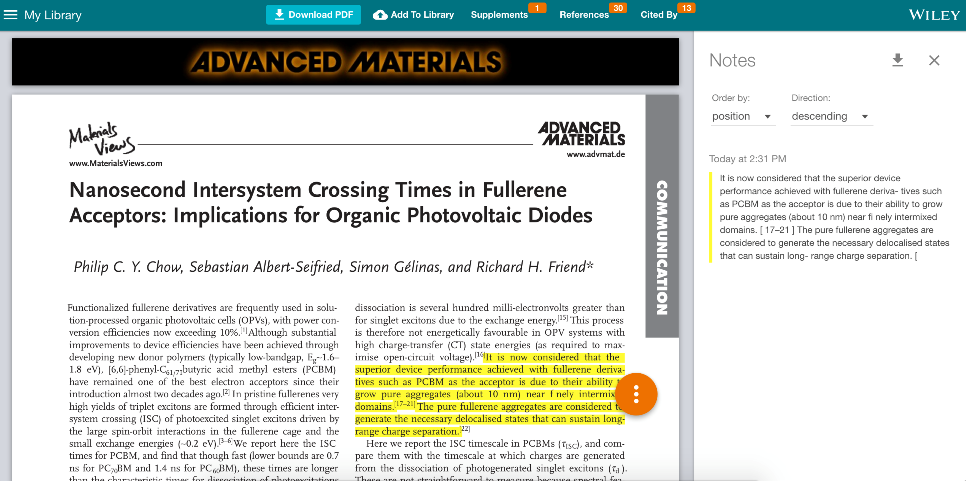 Highlight and add notes and save them using Readcube Desktop.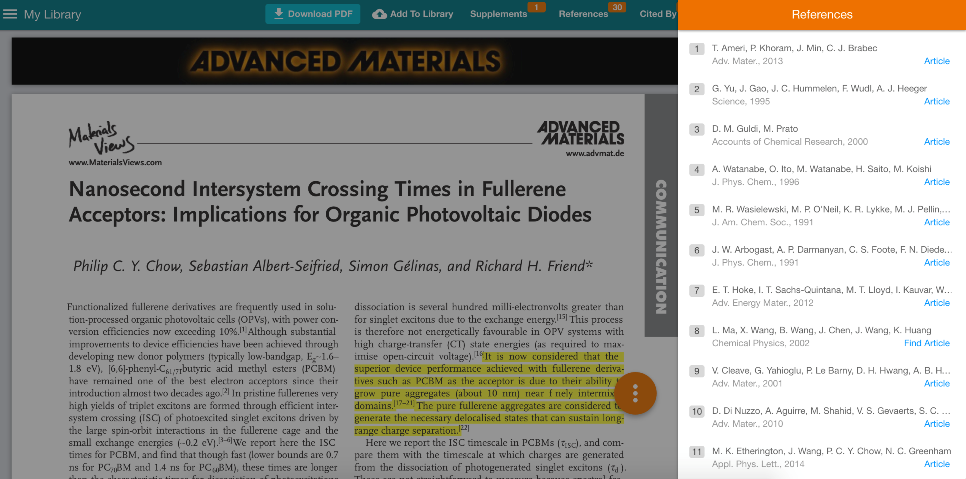 References are just a click away.
---
ReadCube Enhanced PDF Features (Online)
References made clickable - in-line and via the sidebar.
Supplementary information, figures and other valuable supporting article data, are just a click away.
Clickable author details enabling quick look up and cross search of information.
Integrated social sharing and social metrics from Altmetric.



---
Enhance Your PDF Further
You can still download article as standard PDFs, but we recommend trying the free ReadCube Desktop application, that not only allows you to download the enhanced PDF, but adds a host of valuable features to the existing feature set described above.
ReadCube Desktop Additional Features
Consolidated display of all imported articles (PDFs) into a library.
Customizable lists to organize articles.
Integrated search functionality with Google Scholar, PubMed, and Microsoft Academic to find and download new research material.
PDF viewer with notes and text highlighting.
Supplements and references in one place.
Full-text search across your entire PDF library.
Easily export citations to EndNote.
SmartCite - ReadCube's word compatible citation tool enables users to add citations from their library.

---
FAQs
To find out more about ReadCube Desktop, and the features of ReadCube, why not start here?

Why not get started today by opening a PDF of one of our journal articles, and seeing the new enhanced functionality they offer, for yourself.
SEARCH
Information and ideas to help promote Wiley online content to library users.
Customer Administration
Pricing and Licensing
Wiley helps professional and scholarly societies succeed in today's changing information landscape with two centuries of publishing expertise.
Find breaking news from Wiley Publishing and search an archive of press releases in the Wiley Press Room.