For Advertisers
When you want to be seen with content that counts, advertise with Wiley Online Library and reach minds that matter. Our industry-leading publications give you the best visbility — our team will help you identify and target the right audience. We offer a range of marketing solutions and deliver to your specifications: print, digital or both.
Print Advertising

Print advertising is an effective way to build brand awareness. Our research shows that print is still highly valued by our expert audiences. Journals that are received as part of a society membership package are especially popular. Wiley can give you targeted access to key experts in a variety of specialist fields across 1,500 journals.
800 of our journals are affiliated to societies and offer you higher engagement and loyalty among 1.5 million member readers
26 of our journals are ranked number one, with the highest impact factor in their subject category
264 Wiley Journals are ranked in the top 10 impact factor across 341 categories
Our celebrated authors attract influential readers, and include Nobel Prize winners: Elizabeth H. Blackburn, Carol W. Greider, and Jack W. Szostak
Talk to our team about how to achieve the maximum impact or to request a rate card/media pack for any of our journals. Advertising solutions that we offer include :
Full color, or black & white display advertising in a variety of sizes
Special positions that can be booked in advance
Selection of specific geographical regions
Bound inserts, belly bands, bookmarks, reply paid cards or loose inserts
Digital Advertising

All our journals (except for select Specialized Online Products) and books are published on Wiley Online Library, attracting an average of 170 million ad impressions a month from over 19.5 million unique users. Our digital solutions (detailed in our media pack below) include:
Reach minds that matter...
Online Advertising. Reach readers while they are accessing our trusted content on Wiley Online Library. We can target impressions of your ads by journal, subject or region and report results in great detail.
Email Alerts. We offer sponsorship of targeted emails with high open and click-through rates. Reach active and engaged audiences around the world who have registered to receive contents alerts from their favourite journals or news about their specialist subjects.
Recruitment Advertising. Post your job ads alongside Wiley's targeted journal content to reach highly specialized audiences. Advertise Jobs on Wiley Online Library (PDF 483k)
Audience Profile

Minds that Matter
In this complex world, you need access to a well-targeted, influential audience. With Wiley you'll reach the decision makers and key opinion leaders - the minds that matter most to you.
Our authors, including numerous Nobel Prize winners, are some of the most trusted and highly cited experts in the world, and attract a high caliber readership to our publications.
Our publications are recognized for their quality, with 1,192 Wiley journals having an impact factor and 264 of these ranked in the top 10.
Our journals reach 19.5 million professional experts all over the globe. These individuals influence teaching, practice and purchase decisions in their specialist disciplines.
Our partners, include over 800 academic societies (representing over 1.5 million members). They are the established and prestigious hubs of knowledge and discussion for their subject areas.
Subject and Geographic Spread of Users *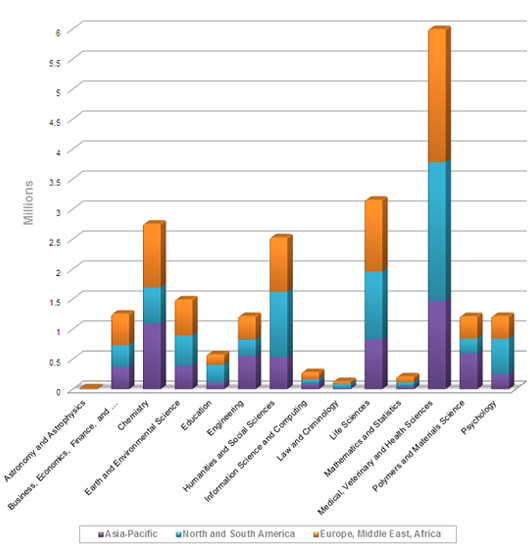 * Extrapolated from analysis of registered users who opted in
Targeted advertising and sponsorship
To ensure that you get the maximum return on investment (ROI) for your company, our team will help you find the most relevant and engaged audience for your marketing and educational message.
Take a look at the wide selection of our available lists of publications:
1,500 journals
14,500 books
Hundreds of reference works, databases and laboratory protocols
A superior service
Contact our Business Development Team for knowledgeable guidance on directing a specific message to a particular audience across both online and print solutions. We have teams based all over the world to give you regional advice.
Success Stories


Chris Bickel, Manager, Surgical Education, Davol, Inc
"I would like to thank you and your team for the great experience I had working with your company. My company had just launched a surgical fixation device and we needed to publish scientific information about the material the fixation implants were constructed of. Your company had just such a publication. The options allowed us to distribute the information to our sales force in a cost effective manner. The result was a very successful launch of this new product. However, this would not have been possible without the dedication by you and your team to customer service and the attention to the detail of my company's needs. Thanks again and I look forward to continuing to work with you."
---
Kristine Joe, Media Manager, Kane & Finkel
"The team at Wiley-Blackwell always provides a high level of service no matter what the need is. They look to you as their partner and always put forth the best effort to help accomplish the client's planning needs and goals. They are very prompt and fair in their responses and if there are ever any problems, they try to help find the best solution in the interest of the client."
---
Abbie Pound, Succinct Communications
"We are very happy with the supplement. The project was dealt with quickly and professionally."
---
Hans-Erich Diede, Merz Pharmaceuticals
"Working with you was fast and very supportive."
---
Pia Sondergeld, Janssen Cilag
"Thank you so much for the copies of the newsletter. It looks great."
---
Product Manager, Daiichi-Sankyo
"The book went down extremely well with our doctors and we received a 25-30 percent response to our RPC cards. Due to the success of this, we will now be looking to do a chapter reprint for our reps to hand out."
---
Suzie Collett, Communications Manager, AstraZeneca, UK
"The Clinical Review is excellent and I am very pleased with the outcome, as are all the team."
---
Mirjam Lorek, Vifor
"Thanks for uncomplicated service and fast delivery of reprints to Switzerland. Many thanks for Speedy-Gonzales service."
---
Anneliese Claussen, Reprint Publications
"Many thanks for your cooperative and uncomplicated collaboration."
---
Dr Bernd Rieckhof, Schwarz Pharma
"A very good German translation of the article and an excellent service."
---
Partner, Ursa Communications
"I appreciate your loyalty to your advertising clients. It's very commendable."
---
Medical Information Secretary, Servier Laboratories
"We received the books. They look great, thank you very much."
---
Information Resources Officer, George Western Foods
"I just received the copy of the Nutrition and Dietetics supplement. This is unquestionably the most brilliant incidence of quality customer service I have ever encountered. I'm absolutely flabbergasted. Congratulations, and please pass on our admiration and thanks to your superiors."
---
Axel Kohlmetz, CEO, EBEWE, Pharma (Asia) Ltd
"This project is one of the first if not the first internationally renowned journal translated into Vietnamese and will certainly help to spread the goals of the WSO as well as improve the knowledge of Vietnamese doctors taking care of stroke."
---
Wendy Foy, Senior Vice President, Elite Marketing Services
"I was very pleased with my experience in working with Wiley on my journal program. I found Kim and her colleagues to be attentive, professional and consistent in their efforts to ensure a successful project outcome."
---
SEARCH
Information and ideas to help promote Wiley online content to library users.
Customer Administration
Pricing and Licensing
Wiley helps professional and scholarly societies succeed in today's changing information landscape with two centuries of publishing expertise.
Find breaking news from Wiley Publishing and search an archive of press releases in the Wiley Press Room.