Wiley MARC Records

MARC is the acronym for Machine-Readable Cataloging. It defines a data format by which computers exchange, use, and interpret bibliographic information, and its data elements make up the foundation of most library online public access catalogs used today.

Important Update for Existing Customers:

OCLC is no longer supporting its former delivery method for MARC records. Existing customers are urged to make the transition to the new Collection Manager platform to ensure there is no interruption in MARC record delivery for your library.

Please visit the following OCLC webpage for more information on creating a profile and custom collection.

When creating your custom Wiley collection, please use your library's OCLC symbol as your Account Number and Collection ID.

Any questions about the transition may be sent to wcptransition@oclc.org or marcrecords@wiley.com
MARC records for Wiley customers
Institutions that have purchased Online Books or Electronic Major Reference Works are entitled to receive free MARC records via OCLC WorldCat. Please view this decision tree to help determine what steps your library needs to take to acquire MARC records.

There are seven steps that new customers need to complete before they are able to receive MARC records. They are:
Determine/Acquire your OCLC Cataloging Authorization Number
Determine/Acquire your WorldShare Account
Add Metadata Services
Configure a Collection Manager Profile
Create a Cataloging Partner Collection
Activate MARC delivery for the Cataloging Partner Collection
Notify Wiley their collection is active and disclose their OCLC symbol
Detailed Information for each step is defined (with screenshots) in the Wiley MARC Guide. Please review the PDF as it contains all of the information you will need for MARC record configuration. Also, please take note that the process is different for customers with or without an OCLC cataloging subscription.

There are several ways for customers to order MARC Records from Wiley. The procedure is different for those ordering book packages versus title by title selections:
For "Pick and Choose" book titles delivered through OCLC's WorldCat Cataloging Partners Collections on Collection Manager: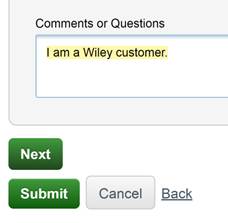 For "Online Book Packages" delivered through OCLC's Collection Manager:
"UBCM" delivered through OCLC's Collection Manager is a hybrid of the two processes:
MARC Records Frequently Asked Questions
Should you need assistance in obtaining an OCLC WorldShare authorization or retrieving your files(s) you may contact OCLC customer support at support@oclc.org. Below, please find country-specific support provided by OCLC.


For other enquiries on Wiley MARC records please contact:
marcrecords@wiley.com
SEARCH
Information and ideas to help promote Wiley online content to library users.
Customer Administration
Pricing and Licensing
Wiley helps professional and scholarly societies succeed in today's changing information landscape with two centuries of publishing expertise.
Find breaking news from Wiley Publishing and search an archive of press releases in the Wiley Press Room.