Online Books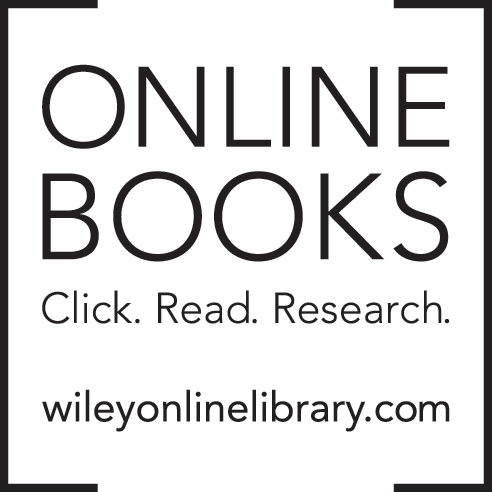 Wiley Online Books combine quality content with the convenience, accessibility and enhanced functionality of electronic access. Now featuring over 20,000 scholarly and professional books, handbooks,dictionaries, companions and landmark book series.

Discover premier titles from the most celebrated scientists, award-winning authors and renowned researchers in the life, health and physical sciences, social sciences and humanities.

BENEFITS
WILEY ONLINE LIBRARY BOOKSTORE
SUBJECT COLLECTIONS
PRICING AND PURCHASE OPTIONS
BOOKS SERIES
MARC RECORDS
100 ONLINE BOOKS TRIAL
DISCOVERABILITY PARTNERS

---
BENEFITS
Libraries

Researchers and Students

No DRM restrictions on downloads and printing
Flexible selection by title or by collection
Low-cost, high impact way to supplement or build a digital book collection
Unlimited, concurrent user access
COUNTER-compliant usage data
Enhanced MARC Records from OCLC at no extra charge
Free course pack use and walk-in user access
Perpetual access rights with one-time purchase
Open URL with links and DOIs
Customer support, training and marketing resources for your library

No DRM restrictions on downloads and printing
Enhanced discoverability through powerful browse and search functionality
Dynamic linking via CrossRef, within and outside Wiley Online Library
Read, download or print by the chapter
Full integration with journals and other content on Wiley Online Library
Flexible access 24/7, including remote access from your home or on the road
Increased productivity and innovation through digital format efficiencies
WILEY ONLINE LIBRARY BOOKSTORE
Wiley is proud to announce the launch of the Wiley Online Library Bookstore, exclusively for the use of Institutional Account Administrators.

The Bookstore caters to orders for online books, online reference works and journal backfiles via perpetual access purchase only.

Designed to handle orders that your institution needs quickly - the new online bookstore can handle your institution's needs simply and efficiently.

If you will be placing an order greater than a $10,000 value, please contact your account manager to discuss special pricing.

Contact Us - if you have any problems or questions you can still easily contact your Wiley Online Library support team at: eal@wiley.com


Why not get started today - simply click here to visit the Bookstore and get signed up today.
---
SUBJECT COLLECTIONS
In an ongoing commitment to provide flexibility in how you grow your Online Books collection, we are offering frontlist in 8 main subject areas and backlist in 9 main subject areas. This will help you to align the Backlist Subject Collections with Frontlist Subject Collections.
Frontlist Subject Collections

We are introducing a new Online Books Frontlist Collection by subject to help you meet faculty demand and acquire the newest prize-winning and top-selling titles from Wiley at an affordable price.

The 8 subject areas for Frontlist Subject Collection are:
Life & Earth Sciences
Humanities
Social Sciences & Psychology
Chemistry

Health & Medical Sciences
Business, Finance & Accounting
Physical Sciences & Engineering
Math and Statistics
There are two purchase options for this model:

1. Current Calendar Year Frontlist
2. Current and Prior Calendar Year Frontlist
Backlist Subject Collections

Thousands of Wiley Online Books are available in 9 Backlist Subject Collections and are offered at significant discounts. Collections are fixed-titles with print publication date of 2015 and earlier and are available for perpetual access purchase.
Collections include our must-have classics, in addition to titles with a 2015 print publication date
Old editions have been removed and replaced by new editions
Existing collection buyers have the flexibility in the way they want to grow their collections - please contact your Account Manager for details.
Backvolume Online Book Series are available to complement the Subject Collections
Collections are available as one-time fee only and are fixed with no overlapping titles
The 9 subject areas for Backlist Subject Collection are:
Life & Earth Sciences
Humanities
Social Sciences & Psychology
Chemistry
Health & Medical Sciences

Business, Finance & Accounting
Physical Sciences & Engineering
Math & Statistics
Veterinary Science

Key points for customers on the new Subject Collections:
- This model provides flexibility in how you can grow your digital library
- You can align Backlist Subject Collections with Frontlist Subject Collections
- These are English language titles only
Special Collections

We now have 2 new special collections - AGU Collection and German Language Collection. Please contact your Account Manager for details.
---
PRICING AND PURCHASE OPTIONS
Flexible Purchasing Options for Institutions:
Adding Online Books to your library collection has never been easier. Take advantage of a one-time fee option, an annual flexi-subscription, or work chapter-by-chapter with pay-Per-View or ArticleSelect Tokens.

Discounts are available for book series back-volumes and for high-value purchases. We also offer customized standing orders for frontlist titles, for your convenience. In addition, you can purchase Online Books in collections by year or by subject. First-time customers must select a minimum order of 20 titles or spend a minimum of $3,000.
One-Time Fee Option:
Pay once for perpetual access to all the books you buy with no hidden surcharges or restrictions. Select from flexible purchasing options such as one-time fee: Subject Collections, Backvolume Series, frontlist standing orders or title-by-title.
Flexi-Subscription Option:
Based on the size of your institution, pay an annual fee for one calendar year. If you subscribe to any title for three consecutive years, you benefit from our auto-purchase feature which means no additional charges and perpetual online accesses. Add, delete or swap any of the subscribed titles at renewal.
Article Select Tokens and Pay-Per-View:
Use tokens or pay with credit card to access single book chapters for up to 24 hours. Tokens may be purchased at any time on a prepaid, deposit account basis, with a minimum purchase of 100. Volume discounts are available on Tokens packages.

Contact your Wiley Account Manager to discuss the best option for your institution.

---
---
ONLINE BOOK SERIES
Give your patrons flexible access to classic book series edited by eminent and pioneering academics and scientists. These volumes feature cutting-edge material to inform current research as well as historical overviews suitable for newcomers to the field. Over 1600 volumes from multiple series have been digitized, covering a range of topics in chemistry, materials science, biology and statistics. They are available for purchase as 'back volume' collections or individually, volume by volume.
Pricing
Flexible pricing options allow you to purchase single volumes under the usual One-Time Fee option for Online Books, or entire Series back volumes*, at a discounted rate.
Generous discounts are given for multi-Series purchases.
Current volumes in these Series are available to purchase or subscribe under the standard Online Books pricing options.
Continuation orders can be placed for future titles published in any series.
* Backvolume sets are comprised of fixed title lists. New titles are not added to the sets.

---
MARC RECORDS
MARC is the acronym for MAchine-Readable Cataloging. It defines a data format by which computers exchange, use, and interprets bibliographic information, and its data elements make up the foundation of most library online public access catalogs used today.
Institutions which have purchased Wiley Online Books, Wiley Electronic Major Reference Works or Blackwell Reference Online are entitled to receive free MARC records via OCLC WorldCat. For Wiley Online Book customers, you will receive Enhanced MARC records which include additional Table-of- Content data.
STEPS to receive your MARC records
---
100 ONLINE BOOKS TRIAL
New to Wiley Online Books? Experience the quality content and the enhanced functionality of electronic access that our Online Books provide with a 30-day institutional trial period. Qualifying institutions can get access to a fixed-title collection of 100 Online Books across multiple subject areas. Recommend to your librarian or send an email with subject line '100 Online Books Free Trial' with your name, job title, institution, address and phone number to: libraryinfo@wiley.com.
---
DISCOVERABILITY PARTNERS
Wiley works with discoverability partners to enable your digital content patrons to fast and easy access to the Wiley Digital Books purchased by your organisation.
SEARCH
Information and ideas to help promote Wiley online content to library users.
Customer Administration
Pricing and Licensing
Wiley helps professional and scholarly societies succeed in today's changing information landscape with two centuries of publishing expertise.
Find breaking news from Wiley Publishing and search an archive of press releases in the Wiley Press Room.