For Researchers
To facilitate the publishing and research processes, we offer a number of online features and tools to assist researchers.
Research Tools
See an extensive list of Features and Benefits of Wiley Online Library
Wiley Exchange: commentary, research and future trends
---
To take advantage of Content Alerting, researchers need to register with Wiley Online Library. Once registered and logged into My Profile, simply click on the menu option for Alert Manager to manage your alert preferences.
---
Citation tracking allows a researcher to view published works that have cited the article they are currently reading by selecting citations from journals in Wiley Online Library and other publisher sites. The feature was developed in partnership with CrossRef and currently links to citations from other CrossRef publishers who offer this capability.
Researchers can download abstracts and citations from online books and journals directly into reference management software applications such as Endnote, Reference Manager, RefWorks, and plain text.
---
The Early View service presents full-text, peer-reviewed, copyedited articles as soon as they are complete, before the release of the compiled print issue. Articles are posted following receipt of the author's corrected proofs. They include all figures and tables and are fully citable.
Since Early View articles are fully integrated within Wiley Online Library, they may be retrieved using the search and browse functions, delivered to your desktop via Content Alerts, and viewed at the journal's home page. Every Early View article carries an online publication date and a DOI for citations.
---
Users may save links to favorite titles in My Profile and sign up for e-mail alerts to receive the tables of contents of the latest issues as soon as they are published online.
---
In the My Profile section, it is possible to retrieve and re-run detailed search queries and set a Saved Search e-mail alert which automatically notifies users whenever new content that matches the specified search comes online.
---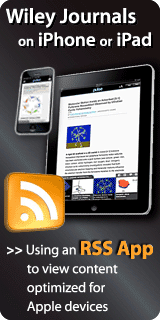 Wiley journals offer the latest issue's table of contents or Early View articles via RSS, featuring article titles, authors, online publication dates, and links to the abstract via the article DOI. RSS is a type of web feed used to publish frequently updated works in a standardized XML file format.
To obtain a feed for any specific journal, click the Get RSS Feed link at the top of any journal page under the Journal Tools. You can also simply add /rss/ into any Wiley Online Library journal home page URL like so:
http://onlinelibrary.wiley.com/rss/journal/ . . .
Pay-Per-View offers instant, full-text access to an extensive collection of journal articles, Online Book chapters, reference work articles and Current Protocol units without the need for a subscription. This service allows anyone to purchase access to individual documents directly by using a credit card. Access is instant and available for 24 hours.
How to Use Pay-Per-View:
Select an article or book chapter
Browse or search through the online collection of more than 10,000 book and journal titles. Choose an article or chapter of interest that is not within your current subscription holdings and click the Full Text link (either PDF or HTML). You will see a screen stating you do not have access to the full text, with a button at the bottom providing the option to purchase 24-hour access to the article or chapter.
Register as a Wiley Online Library User
Click the "Register to Purchase" button and complete the online registration form if you are a new user—or login with your existing username and password if you are already a registered user.
Click the "Buy Now" button
After you register and login, you will be returned to the "access denied" page. You should see a "Buy Now" button at the bottom of the screen.
Enter Your Billing Address
You should enter a valid personal billing address here (as opposed to a work address). This is for verification only and is not retained in our system.
Review Billing Address and Enter Discount Code
Check that your address is OK. If you have a 5-digit PROMOTION CODE, enter the code where indicated, and hit "Apply Discount"—the appropriate amount should now be displayed.
Complete the credit card information for billing and click "Submit Order"—you should now have immediate access to the full text article in PDF or HTML (as available). Your rights to access the content will last for 24 hours from the time you submit your order. You will receive a confirming e-mail with a link to the article or chapter for your reference. After 24 hours, your access to the content will expire.
---
All titles available on Wiley Online Library have a "Recommend to Librarian" button at the top of the left-side column. This calls up an online form which users can complete with their librarian's contact information in order to submit a request that a specific title be added to an institution's collection.


There is also a generic Library Recommendation Form which can be used to submit broader recommendations for multiple titles or subject collections. In both cases, the information entered by the user is sent directly to the librarian address provided, who subsequently makes any decisions as to how to proceed.
---
Personal subscribers will be receiving online access to journal content from 1997 only.
---
SEARCH
Wiley helps professional and scholarly societies succeed in today's changing information landscape with two centuries of publishing expertise.
Find breaking news from Wiley Publishing and search an archive of press releases in the Wiley Press Room.