Contact Permissions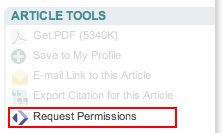 Wiley has partnered with Copyright Clearance Center's RightsLink® service to offer a variety of options for reusing John Wiley and Sons content.
Click the Request Permissions link within the Article Tools palatte of any article on Wiley Online Library to see the available options and submit a request.
For addtional information, about Wiley and RightsLink, go to Journal Permissions & Reprints
SEARCH
Information and ideas to help promote Wiley online content to library users.
Customer Administration
Pricing and Licensing
Wiley helps professional and scholarly societies succeed in today's changing information landscape with two centuries of publishing expertise.
Find breaking news from Wiley Publishing and search an archive of press releases in the Wiley Press Room.